Why use an independent network operator for your next development?
Our Asset Investment Director Jamie McAinsh explains how independent utility operators, like mua Group, can make your network connections simple and straightforward, while also unlocking additional investment to help reduce the capital burden of installing utility infrastructure.
The traditional route to energising your development
When you're building a new housing, commercial or industrial development, you'd traditionally need your local distribution network operator to connect the utility networks which will supply energy to your new development.
For electricity, you'd need to speak to the distribution network operator (DNO) for your region and for gas, it's your local gas distribution network (GDN).
The relevant network operator would connect your development to its existing network, and own and operate your new utility cables and pipes from then on.
This process can be slow and painful.
What's the alternative?
Independent network operators were introduced by the energy regulator Ofgem to improve service for developers by creating competition in a previously monopolistic environment. 'Independents' are more prevalent now than ever before.
At mua Group, we're both an independent distribution network operator (IDNO) for electricity and an independent gas transporter (IGT) for gas.
As an IGT and IDNO, we don't own the gas or electricity, but we collect a fee from the energy supplier for safely and reliably delivering their gas and electricity through our pipes and cables to the end user.
Once a development is energised, consumers are free to choose their energy supplier and they'll pay no more for their energy than they would if they were connected directly to a DNO or GDN's network.
The advantages of using mua as your independent alternative
Like DNOs and GDNs, we're licenced by the energy regulator Ofgem to own and operate utility networks and provide a 24/7 emergency call out service.
Where we're different is we'll pay you, the developer, to adopt and own the newly constructed network. These payments are known as Asset Value payments. This additional investment can help reduce the cost of installing your utility infrastructure. Sounds too good to be true?
Think about it this way, every cable or pipe is a revenue generating asset. In the past, many developers gifted these assets back to the incumbent DNO or GDN for free. When you think about it like that, it seems absurd to give something you've paid for away for free, particularly when its making someone else money.
That's where we come in.
How we're different from other independent network operators
We understand the needs of our developer clients; to minimise the capital outlay, to improve your project cashflow, to remove the pain of wayleaves and easements, and to get the lights on, on time.
We pride ourselves on providing a simple and seamless connections experience. We offer market-leading asset values, and you'll have one point of contact throughout the asset build and adoption process.
Thanks to our expert legal partners, we can speed up arranging wayleaves and easements, so the legal process doesn't slow down the energisation of your project.
Our fast-track payment schedules and upfront Asset Value payments can help improve your project cash flow and alleviate the impact of initial construction outlays.
We want to create long-term partnerships with our clients. If we adopt the multi-utilities of your development, it can increase the asset value by grouping together the utilities, offering you a greater combined asset value than could be offered against individual utilities on a development.
If you're a developer or housebuilder with a portfolio of projects, we can work with you at a group level to offer enhanced asset values using bespoke modelling to aggregate the utility asset values across the portfolio, as opposed to looking at each scheme on a project-by-project basis.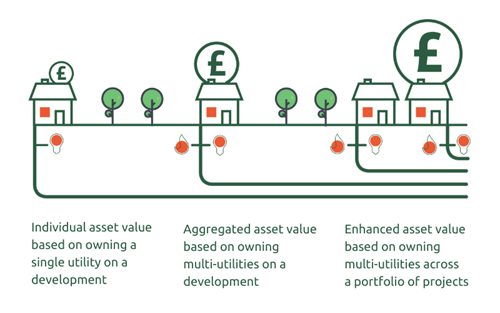 What we adopt
We're a multi-utility network operator. We adopt gas and electricity networks serving new housing developments, commercial premises such as office blocks, leisure complexes and shopping centres, as well as industrial developments including factories, hospitals and heavy manufacturing.
We also adopt connections to battery energy storage systems, data centres and electric vehicle charging points and hubs.
We'll work with you on the most innovative design solutions, helping you reduce the carbon footprint of the utility networks and minimise on-site space requirements.
How to apply for an asset value quote
We have a brand-new online portal, where you can get a market-leading asset value quote for your development instantly.
If you'd like an asset value quotation or to discuss a group deal, please get in touch today to find out more.